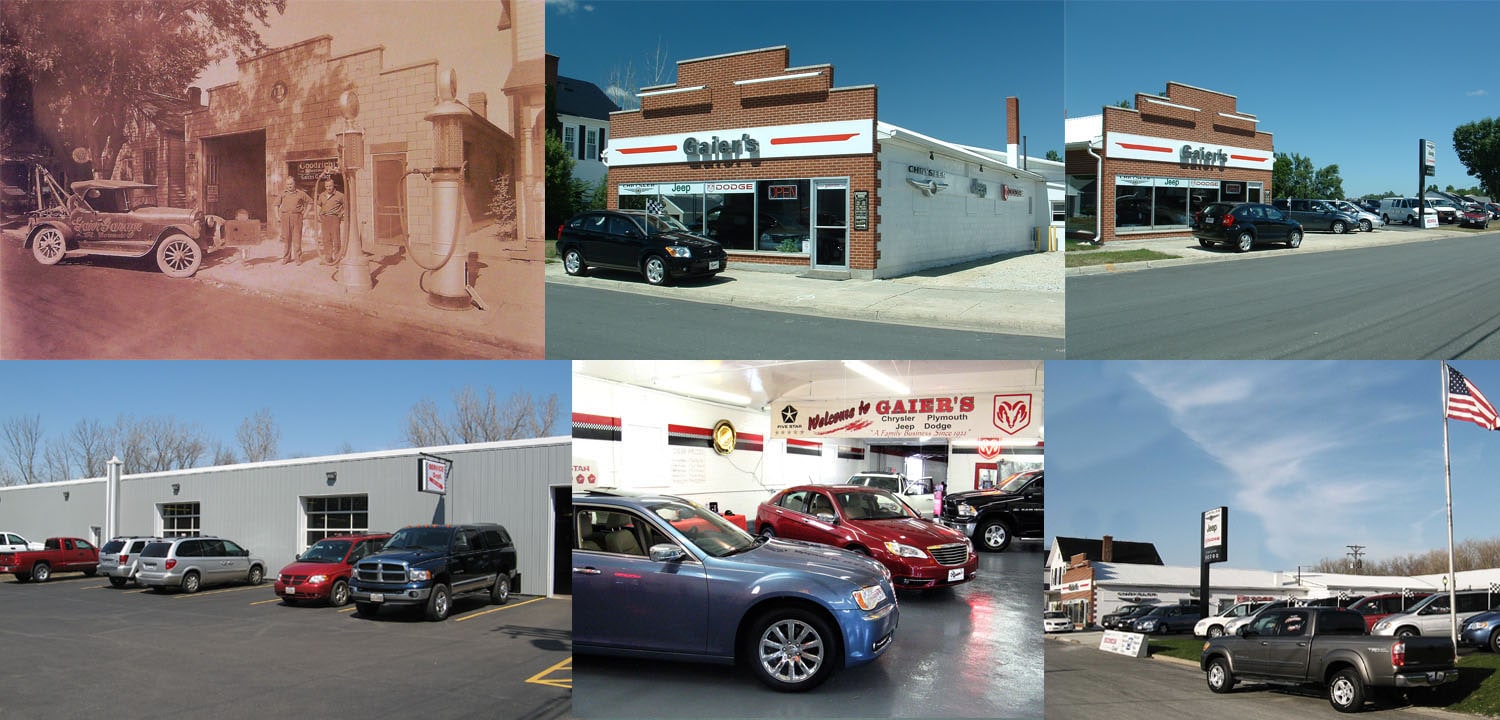 Gaier's is a family owned and operated Chrysler, Dodge, Jeep, and Ram dealership that has been in business since 1922. Not only do we sell new and pre-owned vehicles but we also provide a full collision repair center, a service department, and a Paintless Dent Removal service! We are not limited to working just on Chrysler products; we will work with most makes and models. So if you need a engine tune up on your Honda Accord or collision work from an accident, we can handle the job.
History of Gaier's
It all began with Gus Gaier's interest in automobiles which developed from working part-time for Al Brucken who ran a garage in an old barn behind Brucken's Café. Gus was nineteen years of age when he returned to Ft.Loramie after working in a bakery in Fort Wayne, Indiana. Al Brucken sold Overland cars at first, but later switched to Chrysler and Plymouth models, soldering radiators in a shed behind Gaiers Bakery in West Main Street. His first engine overhaul job was done for Henry Boerger and in which he was paid $50.00.
                When Gus decided to construct his own building, it was Henry Boerger to whom he went for a loan. Henry loaned Gus $1,000.00 and Gus's brother, Elmer (Chub) Gaier became his partner. In1922 the original 30X50 foot structure was built. The Buick Touring car wrecker that you see in the picture was also purchased at this time. It was also in 1922 that Gus and Chub became sub-dealers for Gus Ashman from Sidney. They sold Star and Durant automobiles.
                In 1930 a new Model A, one-ton truck was purchased for a wrecker, and a 50 foot addition was built on to the original structure. On April 28, 1931, Gus Married Esther Larger and their wedding dance was held in the new addition before it was opened for business. The 1930's were busy times for Gaiers Garage. Prohibition was in force and bootlegging had become a profitable business. Most of the back roads in the area were still dirt and turned into mud in rainy weather. The Gaiers received calls at all times of the night and early morning hours. Their customers wanted their cars out of the ditch before prohibition officers could catch them running bootleg beer. Esther always said, "It was almost like being married to a doctor!"
                The business's move to become a Plymouth deal started in 1965, when Richard Gaier purchased a 1965 Plymouth convertible from Driver's Motors in Piqua, and subsequently became a sub-dealer for the Piqua business. The next year, Gaiers became a direct Plymouth dealer under the ownership of Gus' sons: Richard, Bill, Ted, Junior, and LeRoy. Bill Gaier later died in 1987. When the boys took over the business their father instructed the boys not to order more than three cars. When Gus came home from a Michigan fishing trip, though, he found three car carriers at the lot, unloading a total of 16 cars.
 In 1969, a major renovation project was started. The front of the original Gaier's Garage building was renovated into a showroom. A 150 foot-by-60-foot addition was put on the back, and that addition greatly expanded the service department. In 1974, Gaiers became a Chrysler Dealer and in 1993 Gaier's became what was called a "six pack store," offering Chrysler, Plymouth, Dodge, Dodge Trucks, and Jeep/Eagle.
Today the Dealership offers New Chrysler, Dodge, Jeep, and Ram.